View cart
"Nut About Coconut" has been added to your cart.
Pomegranate Raspberry Yogurt
RM12.50
Rated 4.00 out of 5 based on

7

customer ratings
4.0
(
7

reviews
)
Some say Cleopatra bathed in milk.

Some splashes of yoghurt-bubbles under hot water sound pretty delicious (and quite a Cleopatra too).

Why not?
Soap type: Cold-curing 28 days natural oils saponification
Lather score: 5 out of 5
Moisturising score: 5 out 5
In stock
Description
Olea Europaea (Olive) Fruit Oil, Water, Cocos Nucifera (Coconut) Oil, Elaeis Guineensis (Palm) Kernel Oil, Sodium Hydroxide, Yogurt (Milk Solids, Stabiliser, Lactobacillus acidophilus, Bifidobacterium lactis, Streptococcus thermophiles), Fragrance, Sodium Lactate, CI 14720
Made with 89.30% natural ingredients
Use: Lather up & rinse clean. Suitable for face & body. For all skin types. Recommended for dry & sensitive skin.
Caring for your soap: Handmade soaps naturally have a high glycerin content, which is great to the skin. But that also means the soap require a place to dry out in between uses. Here few tips to prolong the life of your favourite soaps. Don't let your soap soaked in the water. Keep it on a well drained soap dish. Store in cool dry place if not in use.
Best use within 12 months of purchase to get the best scent quality. Due to the content of natural ingredients used during the creation of this soap, the color of the product will change gradually and may be slightly vary.
Each of our soaps are uniquely handcrafted.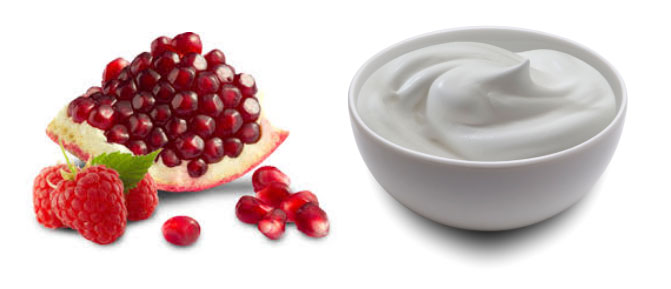 Benefits: Yogurt is one of the most popular fermented dairy products in the world. Naturally occurring lactic acid in yogurt gently cleanses and exfoliates dead skin cells while butterfat in the same yogurt hydrates and nourishes skin.
Fragrance Profile: Soft fruity scent of pomegranate and raspberry with green musky base note inspired by some delicious flavoured yogurts.
Pomegranate Raspberry Yogurt