Puffy Footy
RM15.00
Rated 3.80 out of 5 based on

5

customer ratings
3.8
(
5

reviews
)
Puff away the hard sole and say no to ugly crackers.

The foot feels foot when it feels the ground.

What you need to do is throw away your hard pumice stone (if you have one) and replace your heel's puffing routine with this pumice soap or we what called them as PUFFY FOOTY.

Pumice powder exfoliates away dry, dead skin and calluses and the creamy bubbles from the soap act as cushion, give a soft gentle scrubbing and no more sore.

Regular use of a LAVE Republic Puffy Footy two to three times every week improves the appearance of the heels, it also helps to relieve discomfort caused by calluses.

It comes with jute string so you can hang it without a need of soap dish.
Description
: Pumice Powder, Stearic Acid, Glycerin, Water, Potassium Cocoyl Glycinate, Potassium Cocoate, Propylene Glycol, Cocamide MEA, Sodium Hydroxide, Bamboo Charcoal, Fragrance, Butyrospermum Parkii (Shea) Butter, Sodium Lactate
Made with 89.50% ingredients of natural origin (including mineral pumice powder).
Use: Wet the foot and starts scrubbing the heels & use light pressure and circular motions to remove the outermost layer of dead skin cells and callusses. Rinse clean. 2 in 1 cleanse and scrub for foot care.
Caution: In case of contact with eyes, rinse with water immediately. In the unlikely case of any irritation, discontinue use and consult a doctor. For external use only. Keep out of reach of children.
Caring for your soap: Handmade soaps naturally have a high glycerin content, which is great to the skin. But that also means the soap require a place to dry out in between uses. Here few tips to prolong the life of your favourite soaps. Do not leave your bar soap sitting in water in a soap dish or under a dripping shower head. Keep it on a well drained soap dish. Store in cool dry place and in its original packaging if not in use.
Best use within 12 months of purchase to get the best scent quality. Due to the content of natural ingredients used during the creation of this soap, the color of the product will change gradually and may be slightly vary.
Each of our soaps are uniquely handcrafted.
Pumice Powder & Bamboo Charcoal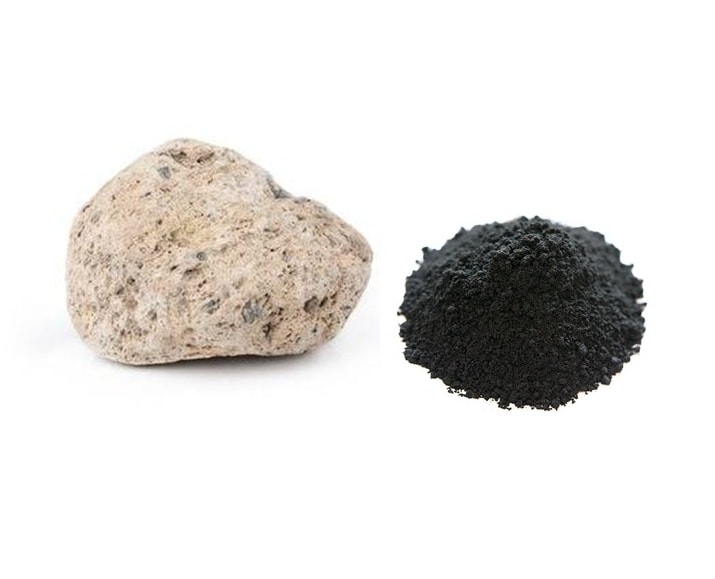 Benefits: Pumice stone is a lightweight stone from hardened lava foam then being grounded to produce fine pumice powder effectively sloughs off tough, dry skin and dead skin cells, usually from the feet, elbows or knees.
Bamboo charcoal, is a good absorbent where it draws out the toxin and impurities from you skin & cleanse the skin pores deeply. It acts as a natural exfoliator, helping to get rid of dead skin cells for smooth and soft heels.
Fragrance Profile: Fresh uplifting oceanus scent.