Very Chocolate In-Shower Scrub Lotion Bar
RM28.50
Very Chocolate, very indulging – A great beauty shortcut to exfoliates and moisturises while indulges the sweetness in one shower routine!
The in-shower scrub lotion is the hassle-free way to slough away your deep dirt and dead skin cells while moisturising your skin as you applying body lotion. This in-shower bar will absolutely simplify your daily cleansing and beauty routine for smooth hydrated skin.
What our Very Chocolate In-Shower Scrub Lotion Bar is offering:
Easy to rinse lotion-feel skin exfoliator sloughs away dead skin cells to promote smoother, healthier skin.
Using 100% fresh ingredient of cocoa powder & hydrated silica granules to provide a deep clean exfoliating and fun showering experience.
Soft chocolate scent with some nutty, caramelized element and a hint of fresh mint.
This solid in-shower scrub lotion bar is a beauty shortcut 2-in-1 lotion & scrub and another zero-waste alternative to your regular bottled-scrub.
Description
Exfoliates & Very Indulging
Cocoa is rich in antioxidant flavonoids with various studies have shown that it helps repair skin damaged by environmental pollutants and aid improvements in your skin.
The natural scrubbing from cocoa powder and controlled-particle strength hydrated silica offers an indulgent and gentle-abrasive yet powerful exfoliation allowing the product to detox the body and the lotion-essence leave the skin feeling re-energised, smooth and hydrated.
Let indulging your favourite chocolate this way and enjoying the incredible cocoa benefits for healthy skin.
Ingredients: Cetyl Stearyl Alcohol, Hydrated Silica, Propylene Glycol, Theobroma Cacao (Cocoa) Seed Butter, Theobroma Cacao (Cocoa) Powder, Cera Alba (Beeswax), Potassium Cocoyl Glycinate, Cocos Nucifera (Coconut) Oil, Fragrance
Made of 98% natural origin ingredients including mineral hydrated silica sand
Use: While still in shower, rub the bar gently on your wet skin to exfoliate and moisturize, then rinse well. For first time use, please rub the bar in between palm until the white-translucent essence produced. Use 2 to 3 times a week. For all skin types.
Caring for your in-shower scrub lotion bar: Avoid hot temperature such expose to direct sunlight or in the car to avoid the butter melted away. Store in cool dry place and in its original packaging if not in use.
Best use within 12 months of purchase or after opening. Due to the content of natural ingredients used during the creation of this in-shower scrub lotion bar, the colour and scent of the product will change gradually and maybe slightly vary.
Each of our bars is uniquely handmade, produce in small batches with a good manufacturing practice.
Caution: In case of contact with eyes, rinse with water immediately. In the unlikely case of any irritation, discontinue use and consult a doctor. For external use only. Keep out of reach of children.
Cocoa Powder & Peppermint Oil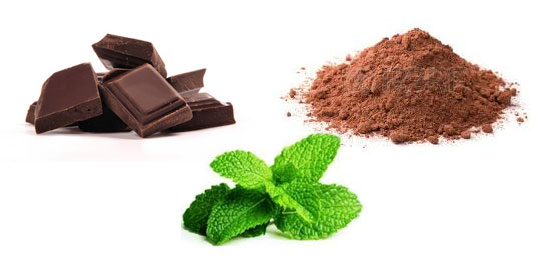 Benefits: Cocoa powder helps in reducing the appearance of acne and pimples. Its tiny powdery texture gently slough off dead cells on the skin and lessens redness and inflammation caused by acne. Peppermint oil refreshes and nourishes the dull skin.
Fragrance Profile: Wonderful chocolate scent with some nutty, caramelized element and a hint of fresh mint.