My Cup Of Tea
RM15.00
Rated 5.00 out of 5 based on

2

customer ratings
5.0
(
2

reviews
)
Slow down, pull back and get a cup of tea.

A happy life consists of the tranquillity of mind.

Soap type: Cold-curing 28 days natural oils saponification
Lather score: 5 out of 5
Moisturising score: 5 out 5
Description
Olea Europaea (Olive) Fruit Oil, Water, Cocos Nucifera (Coconut) Oil, Elaeis Guineensis (Palm) Kernel Oil, Sodium Hydroxide, Camella Sinensis (Black Tea) Leaf, Citrus Medica Limonum (Lemon) Peel, Citrus Aurantium Dulcis (Orange) Peel, Sodium Lactate, Fragrance
Made with 90% natural ingredients
Use: Lather up & rinse clean. 2 in 1 cleanse and scrub. Suitable for face & body. For all skin types. Recommended for dry & sensitive skin.
Caution: In case of contact with eyes, rinse with water immediately. In the unlikely case of any irritation, discontinue use and consult a doctor. For external use only. Keep out of reach of children.
Caring for your soap: Handmade soaps naturally have a high glycerin content, which is great to the skin. But that also means the soap require a place to dry out in between uses. Here few tips to prolong the life of your favourite soaps. Do not leave your bar soap sitting in water in a soap dish or under a dripping shower head. Keep it on a well drained soap dish. Store in cool dry place and in its original packaging if not in use.
Best use within 12 months of purchase to get the best scent quality. Due to the content of natural ingredients used during the creation of this soap, the color of the product will change gradually and may be slightly vary.
Each of our soaps are uniquely handcrafted.
Black Tea leaves, Orange & Lemon Peels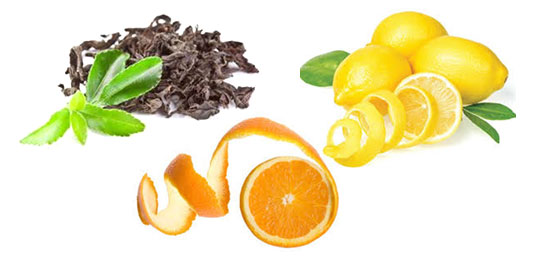 Benefits: Black Tea rich with polyphenols and tannins helps to accelerate skin regeneration and adds moisture especially in treating dry skin. Skin feels refreshed and adds an instant glow to the skin along with removing all impurities of skin successfully. Orange peel is a perfect natural body scrub which keep your skin silky smooth & has anti bacterial properties. Lemon peel contains citric and plant acids that cleanse and brighten the skin. It helps regain smoothness, softness and clarify of dry or scaly skin.
Fragrance Profile: A sophisticated blend to emulate the tea concept scent with a hue of floral and citrus honey on a woody base. It brings a delicate tea scent that is light, floral, citrus and herbal.
My Cup Of Tea