Happy Bar
RM13.90
Some people say happiness is like the chocolate bar you forgot you had.

Well, perhaps this Happy Bar can give a verdict.

Soap weight: Approx. 100g
Soap type: Glycerin soap bar
Lather score: 4 out of 5
Moisturising score: 5 out 5
Description
Stearic Acid, Water, Glycerin, Potassium Cocoyl Glycinate, Potassium Cocoate, Propylene Glycol, Cocamide MEA, Sodium Hydroxide, Fragrance, Theobroma Cacao (Cocoa) Seed Powder, Sodium Lactate, Mentha Piperita (Peppermint) Oil, Hydrated Sillica, Titanium DIoxide, CI 77288
Made with 85.40% ingredients of natural origin.
Use: Lather up & rinse clean. Suitable for face & body. For all skin types.
Caution: In case of contact with eyes, rinse with water immediately. In the unlikely case of any irritation, discontinue use and consult a doctor. For external use only. Keep out of reach of children.
Caring for your soap: Handmade soaps naturally have a high glycerin content, which is great to the skin. But that also means the soap require a place to dry out in between uses. Here few tips to prolong the life of your favourite soaps. Do not leave your bar soap sitting in water in a soap dish or under a dripping shower head. Keep it on a well drained soap dish. Store in cool dry place and in its original packaging if not in use.
Best use within 6 months of purchase to get the best scent quality. Due to the content of natural ingredients used during the creation of this soap, the product's color will change gradually and may vary slightly.
Each of our soaps is uniquely handcrafted.
Cocoa Powder & Peppermint Oil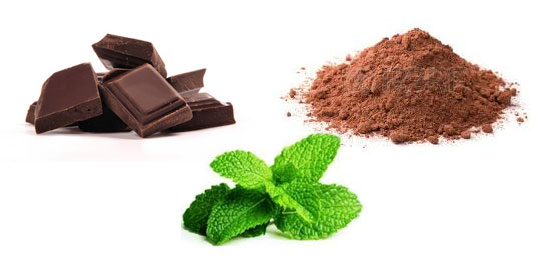 Benefits: The Chocolate part contains cocoa powder from fermented Theobroma cacao. The main constituents of raw cocoa include polyphenols, theobromine, and minerals specifically magnesium. When formulated into a product, these nutritive components enable cocoa to have antioxidant, anti-aging, and moisturizing functions on the skin. The green part contains tiny mineral silica powder that gently sloughs off dead cells on the skin and with Peppermint oil creates a cooling sensation that refreshes and nourishes the dull skin.
Fragrance Profile: Wonderful chocolate scent with some nutty, caramelized element and a hint of fresh mint.
Happy Bar