Almond Nougat
RM12.50
Scrub away your little dirt and secrets.

Keep no more secrets because you are free when you have nothing to hide.

Grab our limited release of Almond Nougat with embedded heart shape; available the whole month of February.
Soap type: amino-acid beauty bar
Lather score: 4 out of 5
Moisturising score: 5 out 5
Description
Stearic Acid, Glycerin, Water, Potassium Cocoyl Glycinate, Potassium Cocoate, Propylene Glycol, Cocamide MEA, Sodium Hydroxide, Fragrance, Butyrospermum Parkii (Shea) Butter, Sodium Lactate, Prunus Amygdalus Dulcis (Almond) Nut
Made with 85.40% ingredients of natural origin.
Use: Lather up & rinse clean. 2 in 1 cleanse and scrub. Suitable for face & body. For all skin types.
Caution: In case of contact with eyes, rinse with water immediately. In the unlikely case of any irritation, discontinue use and consult a doctor. For external use only. Keep out of reach of children.
Caring for your soap: Handmade soaps naturally have a high glycerin content, which is great to the skin. But that also means the soap require a place to dry out in between uses. Here few tips to prolong the life of your favourite soaps. Do not leave your bar soap sitting in water in a soap dish or under a dripping shower head. Keep it on a well drained soap dish. Store in cool dry place and in its original packaging if not in use.
Best use within 12 months of purchase to get the best scent quality. Due to the content of natural ingredients used during the creation of this soap, the color of the product will change gradually and may be slightly vary.
Each of our soaps are uniquely handcrafted.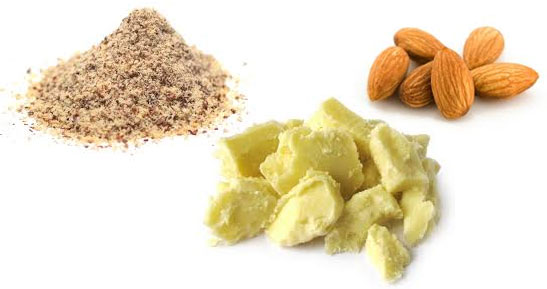 Benefits: Almond Nut & Shea Butter are skin's superfood that are rich in essential fatty acids and nutrients, making them excellent nourishing and moisturising ingredients for the skin, resulting in supple and silky soft skin. Finely ground almonds gently exfoliate dead skin cells for a luminous skin.
Fragrance Profile: Confectionery gourmand scent with aldehydic floral on a musky, woody and powdery base for some sweet nougat encounters.
Almond Nougat